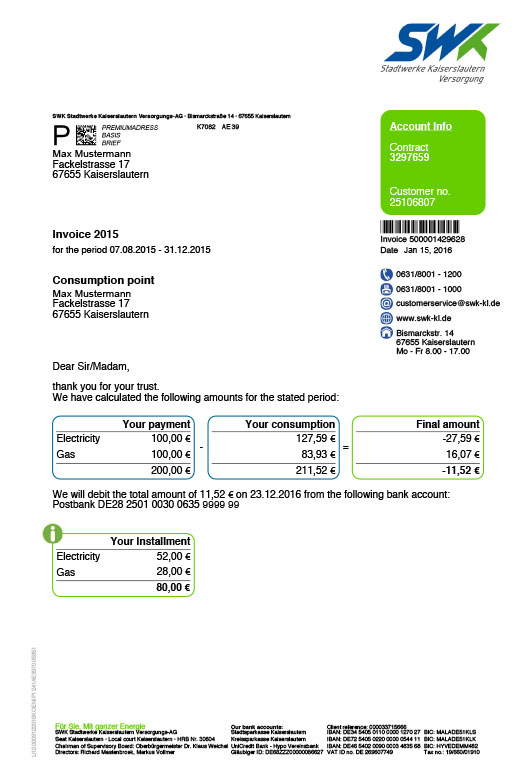 Invoicing period
The invoicing period comprises the time during which you received services from us.
Consumption point
Consumption point is the term used for a closed unit (e.g., apartment, single-family home, factory building) that is being supplied.
Contract account
This is where we manage all data that are relevant for your contracts. Please always mention your contract account when you get in touch with us.
Contact data
Here you can find all the different ways of getting in touch with us.
Overview
In the overview, you can see how much you paid and how much you consumed during the above billing cycle. A more detailed calculation of the consumption amounts can be found on the next pages.
Total amount
The total amount is calculated based on your consumption during the period of service minus the installments you have paid.
Your new installment
Here you can see the new installment that we have calculated for you. Further information on the items included in this installment and on how to change it can be found on the second page.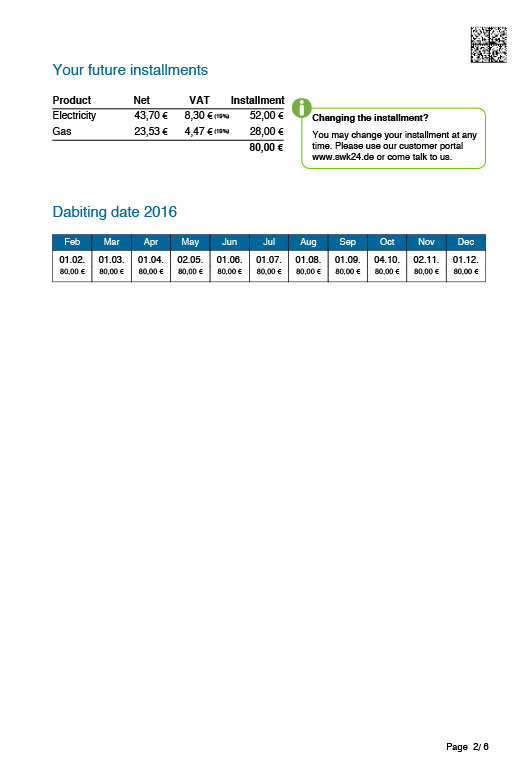 Future installments
The future installments are your installments for the following billing year.
They are calculated on the basis of your consumption during the current billing year.
You can increase the amount of your installments at any time. To do so, please use the services offered by our online customer service center (www.swk24.de).
Due date
Due dates for the following billing year.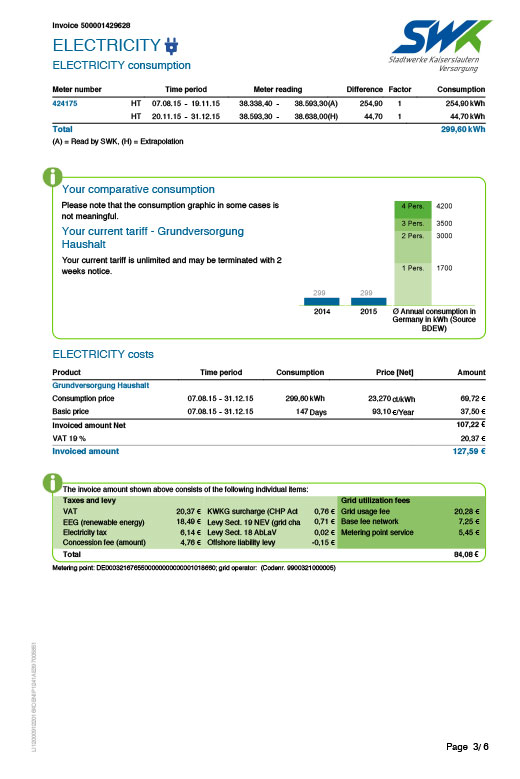 Consumption (e.g., electricity)
There is a separate page for the consumption of each type of supply.
Determination of consumption
In this block, your consumption is determined on the basis of the meter readings. Please check every time whether the meter readings are correct.
Zählwerk
Ist die Vorrichtung zum Messen von Verbräuchen. Je nach Zählertyp, hat jeder Zähler eine oder zwei solcher Vorrichtungen eingebaut.
HT = Hochtarif
NT = Niedertarif
Die meisten Stromzähler haben nur ein Zählwerk (HT) über den, der gesamt Verbrauch gemessen wird. Bei Wärmepumpen oder Nachtspeicherheizungen kommt ein zweites Zählwerk zum Einsatz, der den Verbrauch ab eine bestimmten Uhrzeit misst.
Zählerstände und Verbrauch
Um Ihnen einen Überblick zu beschaffen, werden hier alle Ablesungen aufgelistet, aus denen sich Ihr Verbrauch ermittelt.
Unter Zeitraum finden Sie das Datum und unter Zählerstand, finden Sie den dazugehörigen Zählerstand, der ermittelt wurde.
Differenz
Hier finden Sie die Differenz, die sich aus den beiden Zählerständen ergibt.
Faktor
Der Faktor ist für die meisten Haushaltskunden nicht relevant. Bei Gewerbekunden mit hohen Verbräuchen werden Messeinrichtungen eingesetzt, die mit einem Faktor multipliziert werden müssen. Bei normalen Haushaltskunden ist der Faktor deshalb immer 1.
Verbrauch
Hier finden Sie Ihren tatsächlichen Energieverbrauch in kWh, der Ihnen in Rechnung gestellt wird.
Der Verbrauch errechnet sich aus der Differenz der Zählerstände und wird mit dem Faktor multipliziert.
Der Verbrauch für den gesamten Abrechnungszeitraum wir in Blau hervorgehoben.
Previous year's consumption
Here you find the consumption of your household in the previous year compared to the current consumption. On the following page you can see the usual average amounts for your household size.
Ihr Rechnungsbetrag
Ihr Rechnungsbetrag berechnet sich aus dem oben ermittelten Verbrauch und den entsprechenden Preisen.
Costs of electricity
The electricity costs are calculated on the basis of consumption (kWh), the consumption price (ct/kWh), and the basic price.
The amount of electricity that you have consumed is multiplied by the consumption price.
If prices, rates, taxes, etc. change during the billing cycle, we will calculate the consumption pro rata and list it separately.
Basic price
The basic price covers the provision of the meter and the billing of your consumption.
Zusammensetzung des Rechnungsbetrags
Der größte Teil des Strompreises können wir nicht beeinflussen. Neben der Kosten für Beschaffung und Vertrieb, besteht der größte Teil aus Steuern, Abgaben und Netzentgelten. In dieser Übersicht erfahren Sie, was alles in Ihrem Rechnungsbetrag drin steckt und für Sie abgeführt wird.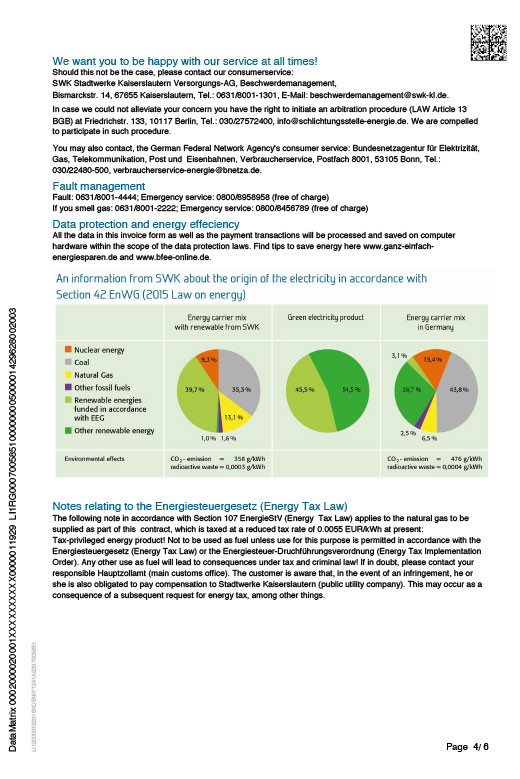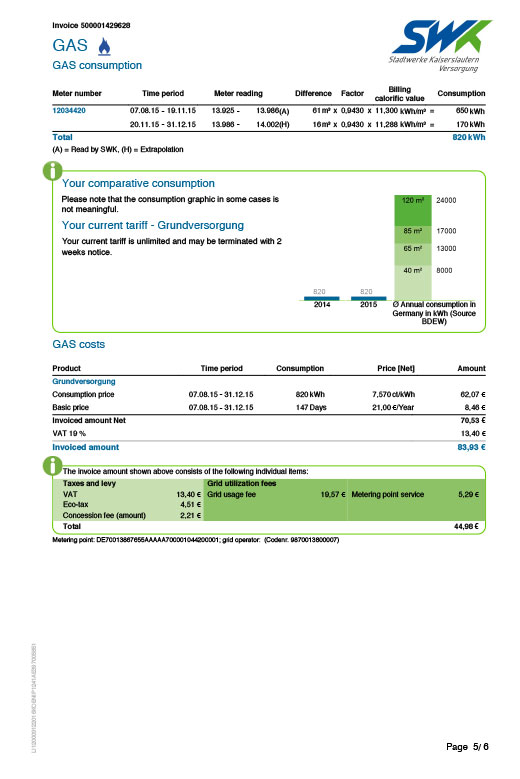 Thermal gas bill
Natural gas is measured by volume, i. e. in cubic meters (m³) depending on the pressure and temperature. The measured volume of natural gas in (m³) is converted to kilowatt hours (kWh) so that it can be invoiced without the influence of pressure and temperature. For this, the consumption in (m³) is multiplied by the conversion factor and the calorific value in accordance with the recognized calibration regulations.